Network Sessions
Network Sessions can be used to share the display of a host on multiple iPads. To use this functionality you need to enable WiFi and Bluetooth on all iPads you want to share the lyrics with.
Recommendation
Although it is possible to host a session without a dedicated WiFi network, it is not recommended. A stable connection is needed to ensure that clients are not dropped. The bigger your audience the more mobile devices are in the room and create background noise that will interfere with your session.
Please setup a dedicated WiFi network preferably in the 5GHz range with a dedicated router. Place the router on stage to ensure short distances to all session participants.
Hosting a session
A bandleader can start hosting a session in the Settings tab by enabling the option Host Session:
Once enabled, the host can be found by other participants and will send all actions that change the playback status and the active song to all connected clients.
Note
As long as clients are connected to the host, the network session will keep on running even when the app is switched to the background. If no clients are connected the session will be disabled if the app is switched to the background. This is done to preserve battery life.
Joining a session
Free version limitation
To join a network session you need to unlock the full version of Stage Traxx as an in app purchase.
Once a session is being hosted, other participants can join that session by opening the Settings tab and selecting Join Session. The following screen will be displayed showing a list of all running sessions in your WiFi network.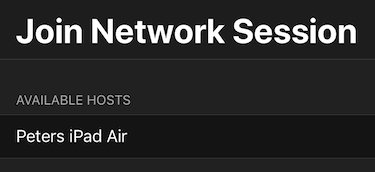 Tapping on a host will connect into the session and a new screen will open: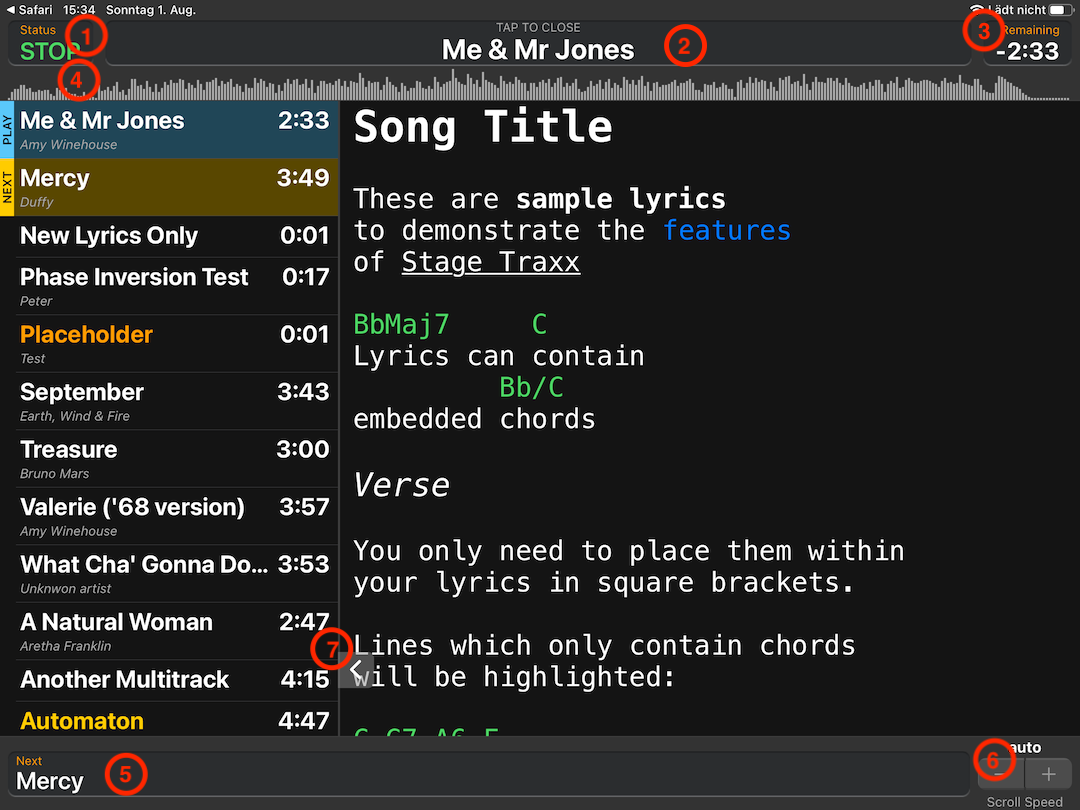 The biggest part of the screen will be used for the lyrics. On the top of the screen you can see the current playback status of the host at position 1. At position 2 the title of the current song will be displayed. If you tap on the title, you can close this screen and disconnect from the host. Position 3 is the playback time. By tapping on it you can alternate between elapsed time or remaining time. Directly above the lyrics area you can see the waveform overview and current playback location of the host at position 4. Finally the next song in the queue is displayed in the lower right corner of the screen at position 5.